With our all in one 3D Printing widget and our website we are able to give a very specific price to your clients. Set up your price within 10 minutes and you are ready to go. Many 3D printers and materials at your disposal, which makes it easier to set yourself up.
1

Surface Area

The surface area is made up of the whole surface of the 3D print. You will always know which product will fit your machine. It's important to know how much space a certain part takes up so you can charge clients the right amount. This will help you with getting the right orders, that will fit your machine. It will assure you from getting wrong orders and having to contact the customer.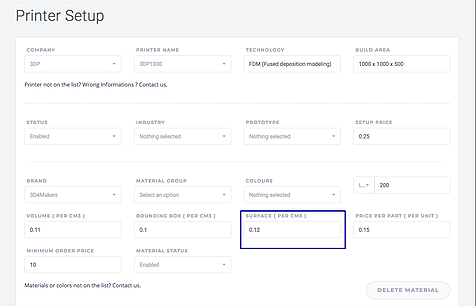 2

Price/Unit

The price it takes to produce one unit of the 3D printed product. This is good to know when there are more products that are going to get printed. So the customer knows how much it would cost order one unit of the product. You can easily add this in your own dasboard and it will be calculated for more unites on our website.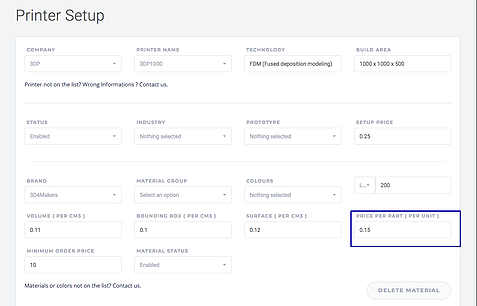 3

Minimum order

This is the smallest amount that needs to be achieved to print a product on your service. The minimum order set up makes it easier to know how much a customer needs to buy or they will just need to pay the minimum order. This assures your business security.
4

Setup Price

This is the cost for setting the 3D print up. Knowing the setup price is getting one step closer to the right price for your services. This can be beneficial to you but also your customers to have a view of this.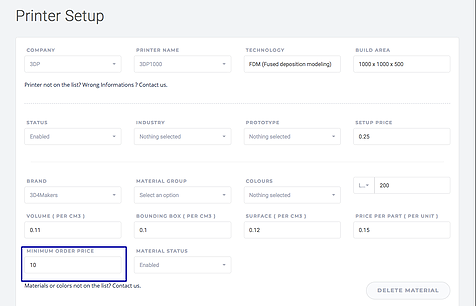 Become a part of 3DCompare.com
Let's talk about your pain points in 3D-printing and how we can solve them.
Instant Pricing Tool (IPT)